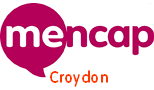 Croydon Mencap 2009 Tel:
020 8662 9201


Croydon Mencap 2010 Tel:
020 8662 9201


For People with Learning Disabilities in the Borough of Croydon
This Guide has been put together to help you find out what is available in Croydon for people who experience learning disabilities, and their families.
It is intended as a 'pointer' to other sources of information rather than an in-depth resource in itself.
As with all guides, once they have been produced they soon become out of date as details change. So if you need to find out the most up-to-date information, please contact Croydon Mencap or Croydon Social Services.
Croydon Mencap
020 8662 9201
Social Services, Learning Disability Services
020 8686 4433/020 726 6000
Contents
Community Learning Disability Team
Eye Testing
Furniture Projects
Garwood Foundation
Health
Holidays
Housing
Inspection and Monitoring
Interpreting Services
Leisure and Sport
Local Support Groups & Organisations
Mencap
National Organisations and Helplines
Practical Help
Respite
Transition
Transport and Travel
Voluntary Work
Wills & Other Legal Issues
Acknowledgements:
Croydon Mencap wish to express their thanks to all those who helped with the preparation of this Guide:
to Social Services who provided the funding;

to Ian Lynch at Croydon Voluntary Action for his advice and expertise;

to the voluntary and statutory agencies and individuals who supplied information.
Hard copies of this Guide may be obtained from:
Croydon Mencap Ltd,
60-61 Leslie Park Road, CroydonCR0 6TP
Tel:020 8662 9201
Fax:020 8662 9202
Email:croydonmencap@btco nnect.com
Funded by:Croydon Council
Prepared by:Croydon Mencap
Produced by:Croydon Voluntary Action
Whilst every effort has been made to ensure the contents of this Guide are correct at the time of going to print, no responsibility can be taken for information that is inaccurate or for the quality of the services listed.
If you need help in understanding the information in this Guide, please ask an English-speaking person to contact Croydon Mencap.
CROYDON MENCAP, APRIL 2005
Hard copies of this Guide may be obtained from:
Croydon Mencap Ltd,
60-61 Leslie Park Road, CroydonCR0 6TP
Tel:020 8662 9201
Fax:020 8662 9202
Email:croydonmencap@btcon nect.com
Funded by:Croydon Council
Prepared by:Croydon Mencap